Every year, the Launchworks & Co team attends the IDE Platform Strategy Summit at the MIT Media Labs in Boston. The event is organised by renowned platform academics Marshall Van Alstyne, Geoff Parker and Peter Evans. This year, The Platform Strategy Summit 2020 took place online and was once again a great success.
In this first post, we cover key insights from Geoff, Peter and Marshall. Geoff talked about the resilience of platforms during the pandemic. Peter highlighted the need for platform talents. And Marshall demonstrated the importance of platform design on financial results.
In our next post, we'll cover some key take-aways from platform leaders in Health Tech (Jessica Tan from Ping An, John Halamka, M.D. from Mayo Clinic Platform); Entertainment (Joseph Pine from Strategic horizons, Ronald van den Hoff from Seats2meet.com, Laura Simpson from Side Door, Andrew Beranbom from First Tube Media); leading platform investor Connie Chan from Andreessen Horowitz; and corporate leaders on their platform journey (Dr Roland Busch from Siemens, Scott Cook from Intuit).
Platforms showed strong financial resilience during the pandemic
It's clear that COVID-19 had a significant impact on many businesses, including digital platforms and their ecosystems. But interestingly, recent valuation analysis shows that companies that benefited the most from the crisis are big tech and platform companies. In total, they grew their market cap by more than $400bn while traditional firms lost $130bn.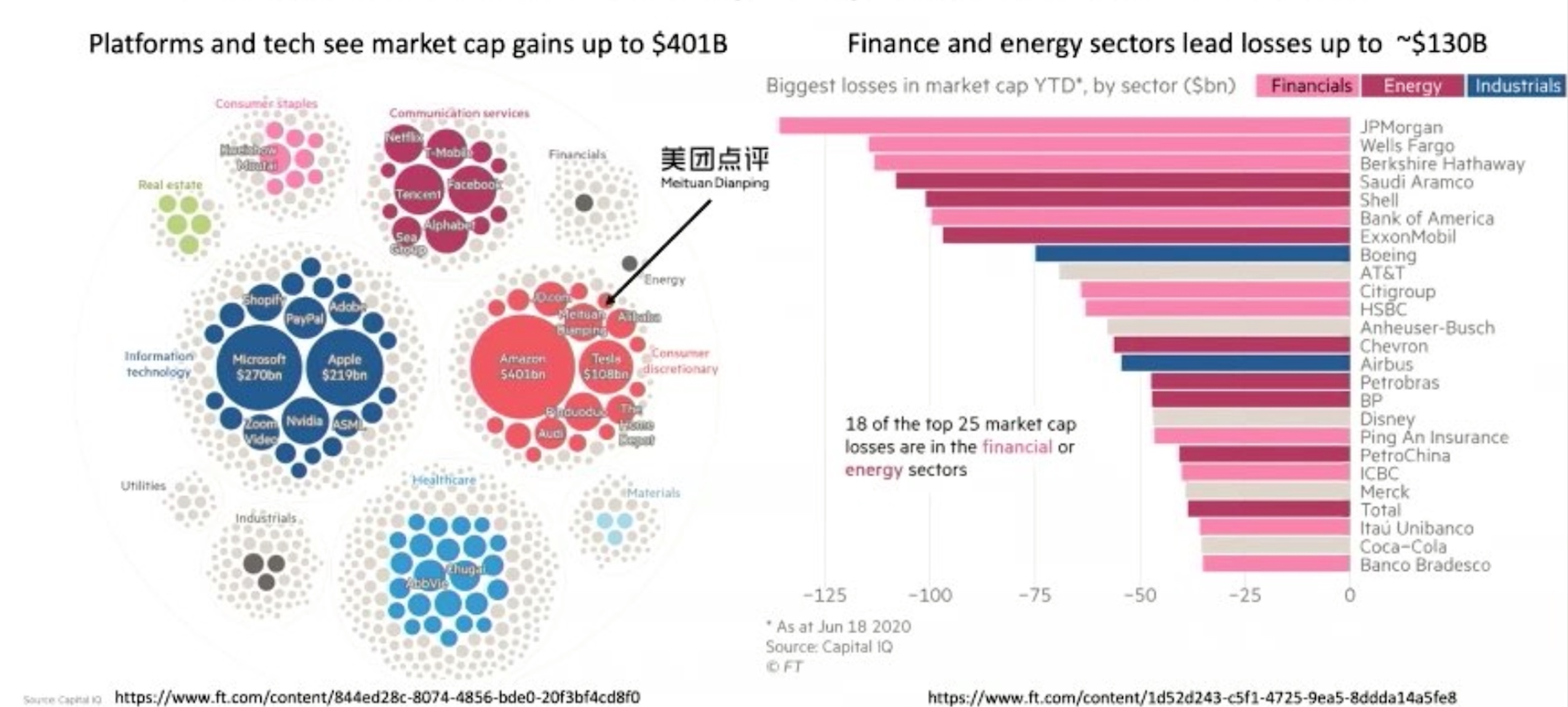 Traditional companies with advanced digital skillsets and a good understanding of how to use platforms have been able to pivot rapidly. Geoff took the example of food trucks in Boston, who used to serve customers on campuses and business districts. The pandemic meant that trucks lost their clientele overnight. Enter a platform like Best Food Trucks that matches food trucks with customers. Food trucks who joined the platform immediately became 'digital and platform-powered kitchens'. They're now able to drive and serve new demand wherever it is, including in the suburbs.
Platforms themselves have also had to adapt. Bandsintown, the platform connecting music artists and their 58 million fans, quickly pivoted from physical events to virtual global live streams. Digital platforms have a unique ability to match new supply and demand, and to scale quickly through the power of networks effects.
At Launchworks & Co we have witnessed first hand the agility of platform organisations during the pandemic. In fact we found that platforms -and their ecosystems- have unique characteristics that make them more resilient to shocks.
Mind the platform talent gap: the growing need for platform experts
Peter Evans presented the results of a fascinating study on Platform Talent. Despite the crisis, the number of platform job offers looks pretty healthy. Companies seeking platform talent fall into 3 categories:
native platforms looking to backfill natural attrition
growing platform start-ups / scale-ups
traditional companies with platform ambitions
The picture below shows the number of job postings over the last 12 months. Note that the bubbles are proportional to the number of jobs per company.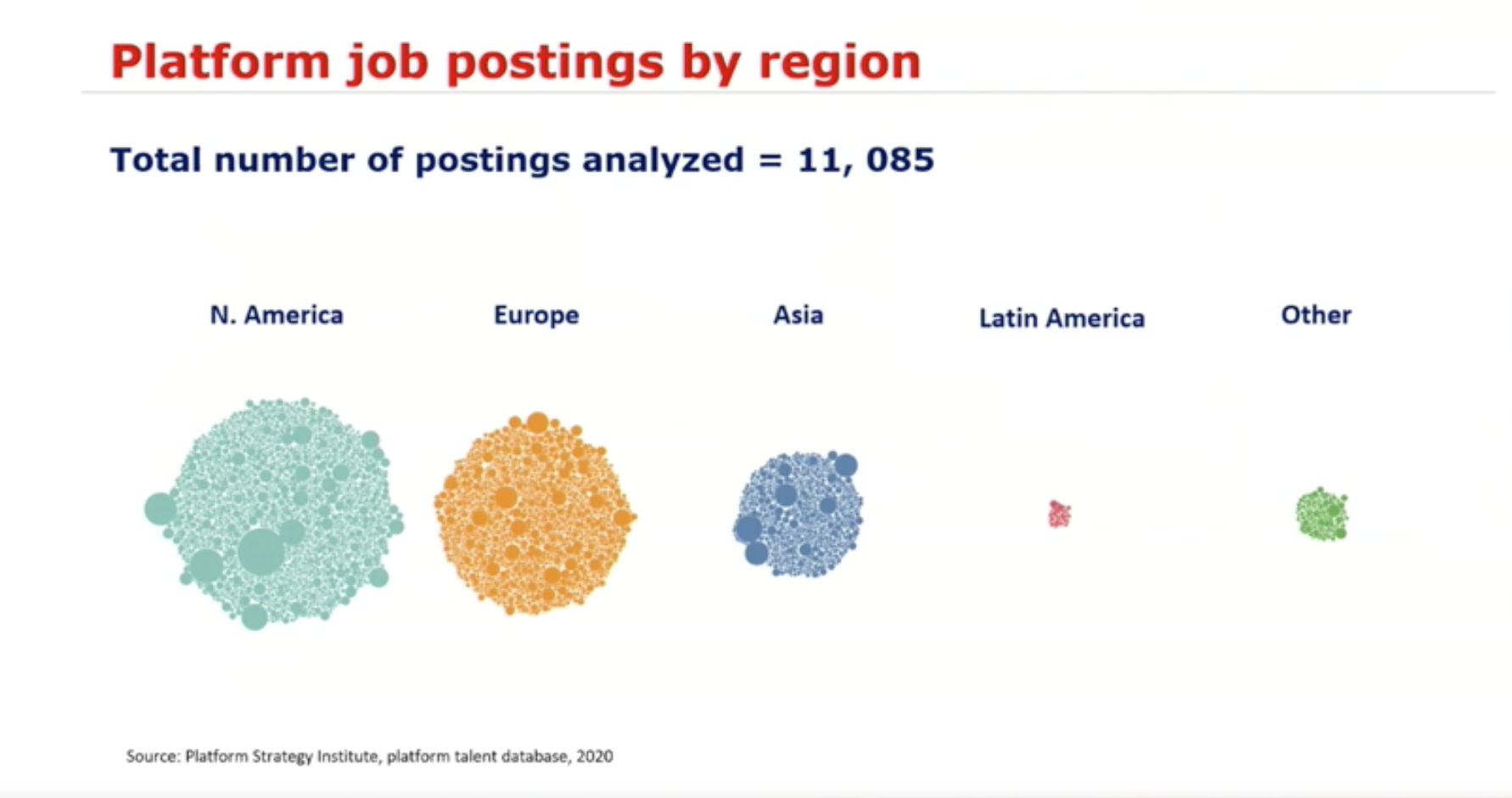 Some of the key roles companies are looking for: Platform Strategy, Platform Product Management, Platform Ecosystem Management, Platform Engineering, Platform Data Management, and Platform Privacy and Compliance.
The study highlights that few search firms and recruiters have platform expertise. The largest incumbents face the biggest challenges, with the need to train leadership and recruit externally. Finally, there is also a lack of platform talent certification, which could potentially be addressed with a badging and credentialing system.
Peter's research is spot on and we are well placed to see the critical importance of platform expertise. This is of course the case for platform themselves. But traditional firms developing their platform strategy also need to embed this expertise to develop new skillsets, mindset and culture. One thing to watch out for however is the definition of a platform. For example many traditional firms use the term platform in a purely technical infrastructure sense (e.g. "looking for IT back end platform engineer") rather than in the business model sense of the term.
Why platform design is the ultimate source of value
Marshall Van Alstyne presented the results of his latest research on which platform investments generate the most value. A study of Groupon data shows that the most impactful investment is not your marketing acquisition budget, or discounts but in fact design to keep users within your platform ecosystem.
This finding is aligned with Launchworks & Co's thesis that platform design interventions—such as designing for platform participation, stickiness and network effects- can yield more long-term value than marketing acquisition campaigns. A comparison of Groupon and Meituan, two platforms operating in the deals space, shows that thoughtful platform design drive significant user value (x5), and as a result company valuation (x56).
Matches customers with deals from merchants
Coupon redeemed off platform
Used by merchants as a lead generation tool. Likely disintermediation or what we call platform 'leakage' after a customer buys from a merchant

Matches group buyers with deals from merchants
Transaction and payment on platform, with coupon redeemed on platform
Data used to make suggestions for local services and new store locations to keep customers on platform
Meituan, with integrated delivery and payment services, is able to keep customers on platform for much longer than Groupon. This enables them to collect additional customer data, make targeted suggestions for a range of services, including low frequency high margin services such as hotel night bookings.
For more insights from the Platform Strategy Summit 2020
Come back soon for Part 2.