Only a few weeks ago, the Platform Leaders conference brought together world leading academics, practitioners and policy makers from Airbnb, BlaBlaCar, Glovo, Google, LBS, NYU, Udemy and many more. Together they shared views, debated and exchanged on the future of digital platforms.
Platform Leaders Conference
Hundreds of founders, investors, executives, policy makers, and academics gathered to debate topics shaping the future of digital platforms. We believe that bringing together different communities under one roof can unlock the full potential of these innovative platforms business models.
This first edition of Platform Leaders focused on 3 key themes: platform governance, regulation and impact.
Governance. Unlike traditional businesses platforms orchestrate complex ecosystems and co-create value with their participants. This session explored the governance principles of platforms, the challenges associated with ecosystem management and the importance of trust.
Regulation. Here our panellists focused on the challenges associated with the regulation of platforms and ecosystems, and discussed the latest thinking of EU and UK policy makers.
Impact. This session explored how platforms have fared and adapted during Covid, their increasing contribution to resilient ecosystems and how they may have contributed to a sustainable economic recovery.
The Platform Leaders conference was perfectly summarised by Launchworks & Co's CEO Benoit Reillier in his closing remarks. We've recapped for you the main insights below.  Benoit's wrap-video of the full Platform Leaders conference is also available if you'd like to hear it from the horse's mouth!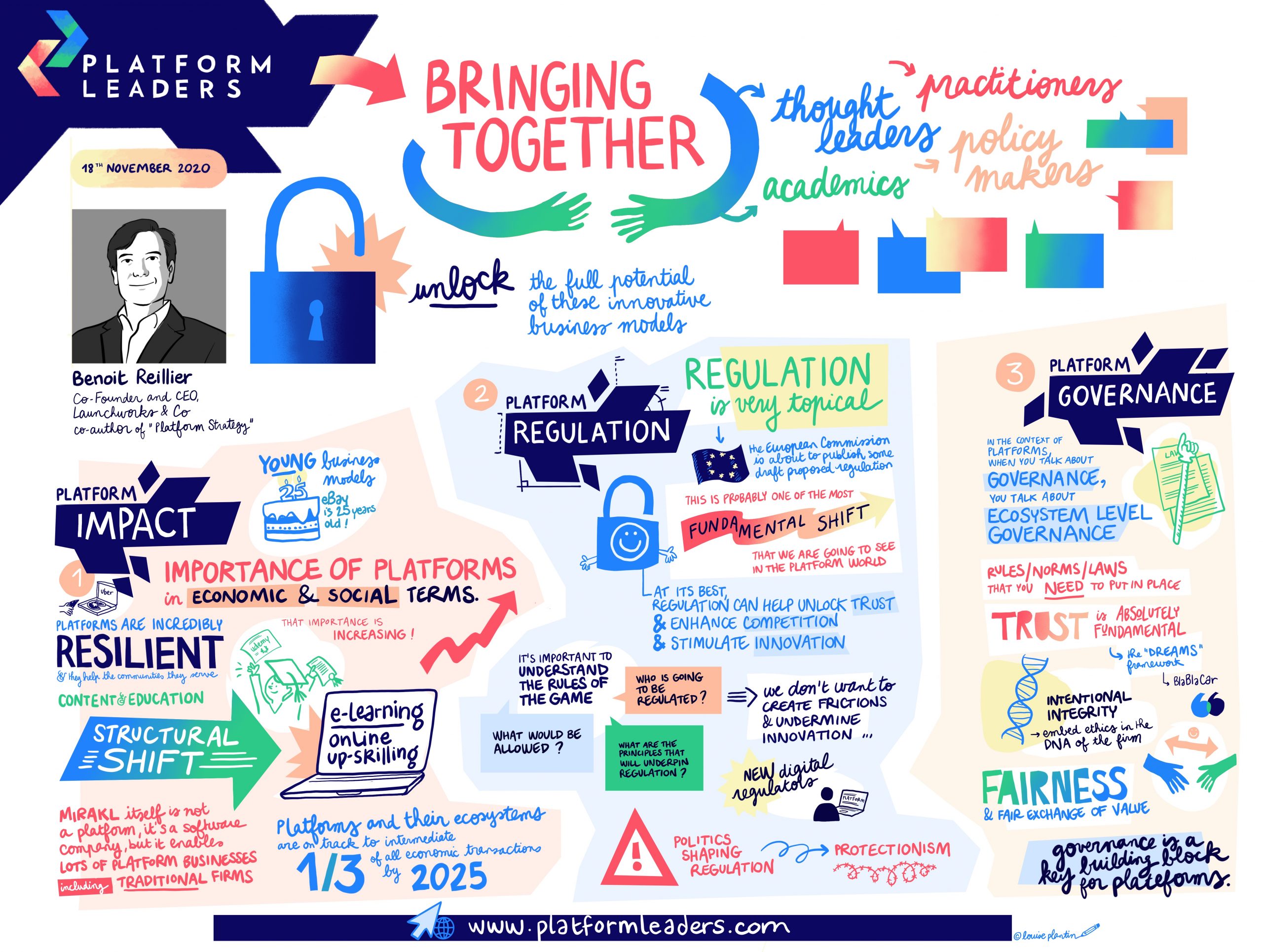 Platform Governance
Platform Governance is absolutely key. It's not just about how the Board will operate in the traditional sense of corporate governance. But it's also how the platform will set the rules, norms and laws for its communities of participants (Stakeholders). This is a platform leadership skill that founders and practitioners need to develop to orchestrate the ecosystem.
Trust is a core ingredient of Governance as Frédéric Mazzella reminded us. Platforms attract participants and match them but for them to transact platform need to create a trusted environment. The DREAMS framework that Frédéric developed for BlaBlaCar, the ride sharing unicorn he founded, is a powerful tool to structure your trust framework.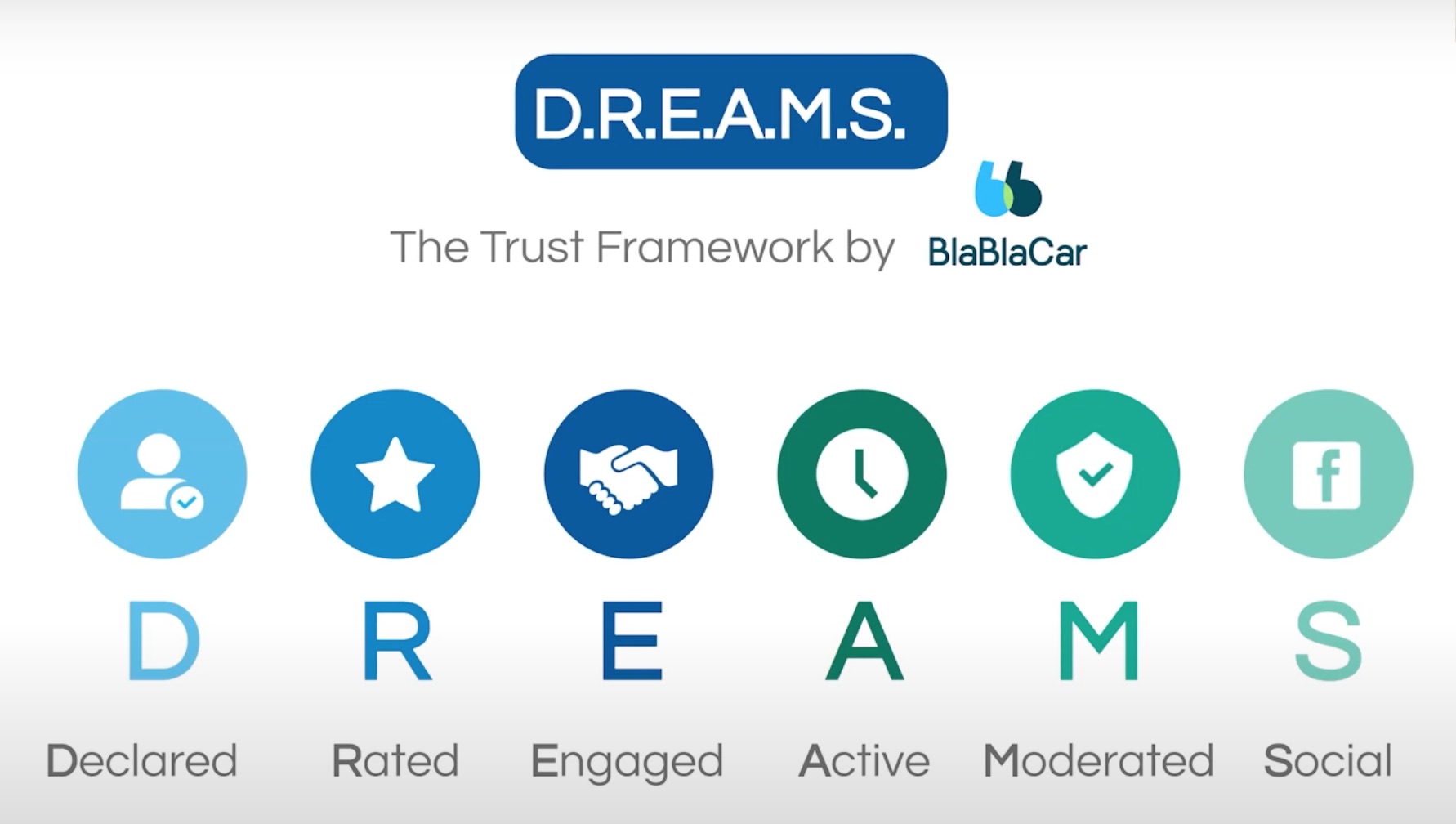 Rob Chestnut, ex-general counsel and ethics officer at Airbnb, introduced the concept of 'intentional integrity' that is also developed in his excellent book full of fascinating stories from eBay days as well as Airbnb… Humility and Curiosity, Competence & Integrity are key elements of trust. But in Rob's view, Integrity is the most important. To really construct a trusted organisation, you need to develop integrity as an organisational capability and embed ethics into the organisation's DNA.
Governance is also increasingly about ensuring fairness.  Sacha Michau is the co-founder of unicorn delivery platform Glovo. Sacha talked about the importance of governance to set fair rules for the sharing of value amongst participant. He also stressed the need of transparence with participants and the regulator to create trust in the ecosystem.
Azeem Azhar masterfully moderated this discussion. If you already read his excellent Exponential View newsletter, you'll know he is following closely everything digital and tech.
Platform Regulation
The emergence of platform regulation is possibly one of the most significant development on our collective ability to harness platform business models. At its best regulation can unlock trust, enhance competition, stimulate innovation and protect customers. However the wrong regulations can have the exact opposite effects. They can create fragmented and costly rules that add friction. Ultimately it can undermine innovation at a time when the online sector is so important.
Michael Jacobides has done lots of work on ecosystems and platforms as a policy maker (Greece) and academic (London Business School). Michael reminded us how difficult -but important- it was to think about regulation to focus on identified competition concerns at the ecosystem level and the danger of politics driven regulation that can be a type of protectionism.
Tom Smith, from UK's Competition and Market Authority (CMA) talked about the forthcoming EU framework, the recent work of the CMA in this area and its proposals for a new regulatory regime based on principles based regulation and codes of conduct that a new digital regulator (Digital Market Unit) will oversee in the UK.
Oliver Bethell, head of competition at Google, stressed the importance of getting these new regulations right by making sure we know who is in scope; who will be caught by the rules; and what will be allowed and what won't. This will be helpful to determine to which extent regulations enable innovation rather than create friction for all ecosystem participants. In such fast moving innovative environments, flexible principles based regulatory models are likely to be more adapted than traditional models.
Lewis Crofts, editor in chief at MLex in Brussels, asked how to draw the line between the innovative disruption brought by platforms and the market distortions they are increasingly being accused of.
Platform Impact
The Impact Session reminded us why we were having these debates in the first place. Most digital platforms are very young. eBay, the oldest global marketplace, celebrated its 25th birthday this year. Yet these new business models are on track to intermediate a third of all economic transactions by 2025. If anything, Covid is accelerating this trend.
Platforms are resilient. Prof Arun Sundararajan from New York University Stern shared fascinating insights into not only the resilience of these platforms but also their importance for community resilience. His study showed twice the uplift for Uber Eats allowing Uber drivers to absorb some of the reduction in other trips. Had the pandemic occurred only 10 years ago, the restaurant industry would have been decimated… It is still very tough but many restaurants have changed the way they operate to continue to serve customers.
It's not just about product platforms, you have content and service platforms as well. Llibert Argerich, CMO of global edtech platform Udemy, discussed its recent growth in 2020 (+431% in one month!). He sees a structural shift toward e-learning for lifelong learning/upskilling for all of us.
Joe Schorge, Founder of Managing Partner at fund Isomer has unique insights into these businesses. He's deployed hundreds of millions of dollars in European tech firms over the past few years. He shared with us some very interesting stats about some of the many platforms he has in his portfolio (Deliveroo, Farfetch, Mirakl, etc.). In addition to horizontal platforms like Deliveroo, Joe also mentioned the rise of segmented vertical platforms, as a way to serve differentiated businesses. Supper, the platform for finest restaurants in London, is a good exemple. Clearly platforms are not immune to economic shocks, especially when they operate in heavily impacted industries like travel. But they have shown resilience and adaptability.
Jennifer Schenker, Founder and Editor-in-Chief of The Innovator, the leading publication for digital transformation, masterfully moderated the panel.
To Learn More about the Platform Leaders Conference
The Platform Leaders 2020 conference was packed with many more insights. If you'd like to learn more, the full video of the event is available here. And to register for forthcoming events, check the Platform Leaders website.