The April 2021 virtual gathering of Platform Leaders again proved the global interest in digital platforms and the appetite for conversation.
As with the first Platform Leaders conference, this event created a forum for interdisciplinary dialogue, not only between speakers and panelists, but with the broader community of practitioners, academics and policy makers. Participants logged on from around the world, representing over 50 countries; in the online chat, contributions poured in from Madrid, Singapore, London, Zurich, Montreal, Dubai, Dublin, Oslo, and Chennai.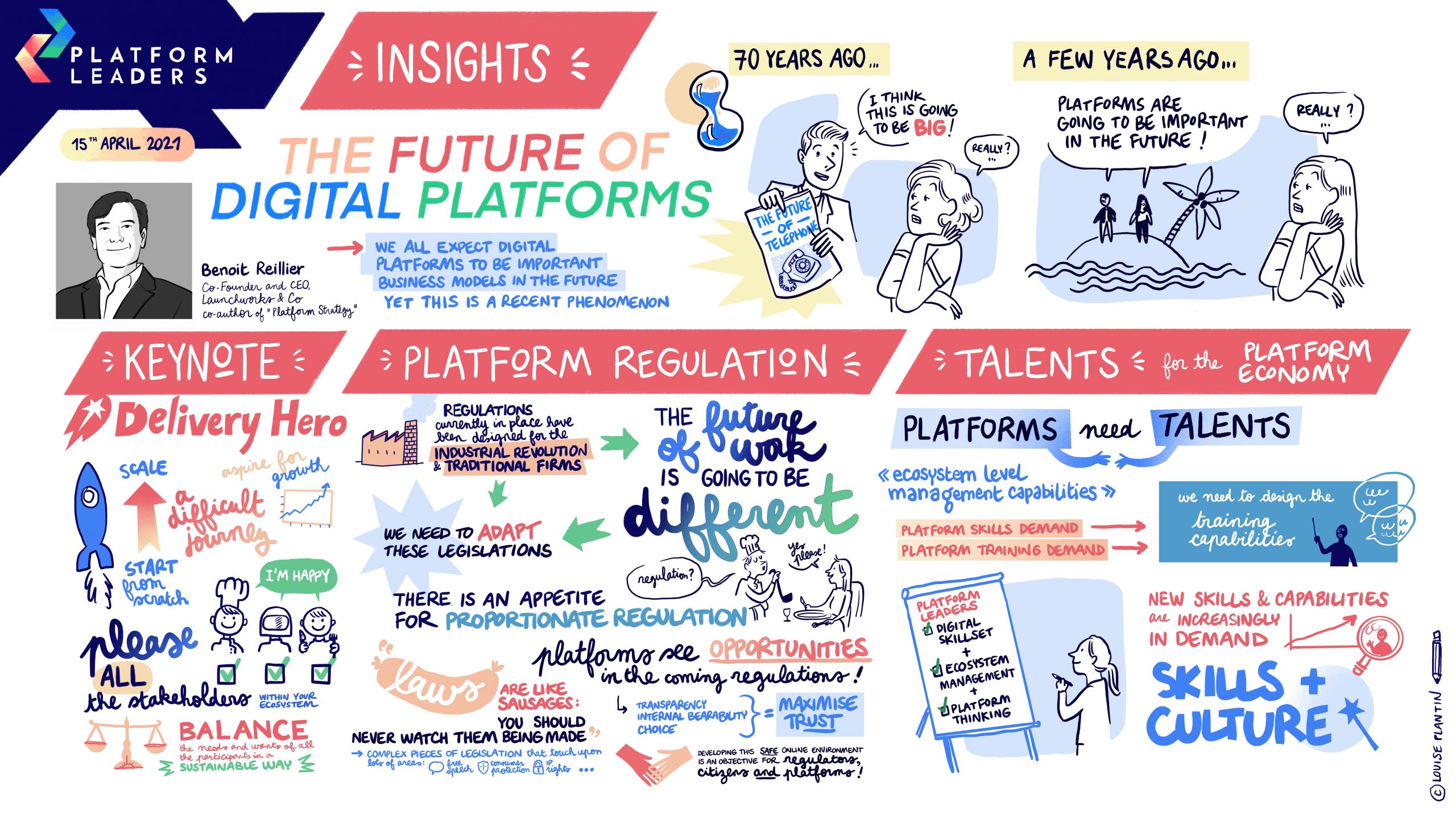 Platforms are here to last
In his closing remarks, Benoit Reillier (Co-Founder and CEO, Launchworks & Co) highlighted the similarities between today's rise of platforms and the history of the telecommunications industry. He also underlined how important platforms are to our global society and economy, evidenced by the rich discussions throughout the conference.
Building a sustainable future
Niklas Östberg (Co-Founder and CEO, Delivery Hero) joined Laure Claire Reillier (Co-Founder and COO, Launchworks & Co) for a conversation about the unique pressures of reaching scale, since platforms like Delivery Hero only work with a critical mass of platform contributors. He gave us a glimpse into the sleepless nights that powered Delivery Hero's early days and shared how the COVID-19 pandemic has affected business differently across markets. As the company celebrates its 10th birthday, Niklas has ambitious plans for the future as summarised in this article.
Designing future-proof platform regulation
The panel on regulation was kicked off by Max Beverton-Palmer (Director, Internet Policy Unit, Tony Blair Institute), sharing new research on public perceptions of regulation. We heard from Stephanie Yon-Courtin (MEP) about the two recent legislative proposals by the European Commission, the Digital Markets Act and the Digital Services Act, which she says are the result of years of experience and learnings from antitrust cases. Annabelle Gawer (Chaired Professor in Digital Economy, University of Surrey) shared her research that summarises the social and organisational effects of platforms. And we heard Oliver Bethell's (Head of Competition EMEA, Google) thoughts on the opportunity that regulation can offer companies to make better, quicker decisions. This panel showed that the conversation between regulators and big tech is not as antagonistic as we might imagine. Getting the new regulatory packages proposed by the Commission (DSA and DMA) right will be key to further unlocking the potential of the platform economy for all. We've summarised key insights in this post.
Investing in the Platform professionals of tomorrow
Peter C. Evans (Managing Partner, Platform Strategy Institute) kicked off the panel on talent, by outlining the increasing need for Platform Talents and platform skills around the world and across organisations. Olivier Van Calster (GM & VP, Europe, StockX) shared his extensive platform experience, and insisted on the importance of a "Digital Plus" mindset as well as the need for empathy with ecosystem stakeholders, as key skills for platform leaders. Veena Marr (Consultant, Russell Reynolds) shared concise and actionable advice for companies on how to source talents with such Digital Plus mindset. Annemie Ress (MD & COO innogy Innovation Hub, Founder PurpleBeach) and ex global HR leader at eBay/Paypal & Skype) masterfully hosted this panel and reminded us that beyond the all important platform skills, firms also recruit based on fit and platforms therefore need to ensure cultural alignment with their recruits. This panel also sparked a lively exchange in the online chat about the increasing need for platform training to foster new talents and the opportunity this represent for institutions and recruiters. This post summarises the discussion. 
To join the Platform Leaders community
To take part in future debates shaping the future of digital platforms, join the Platform Leaders Community today.
---
Also published on Medium.