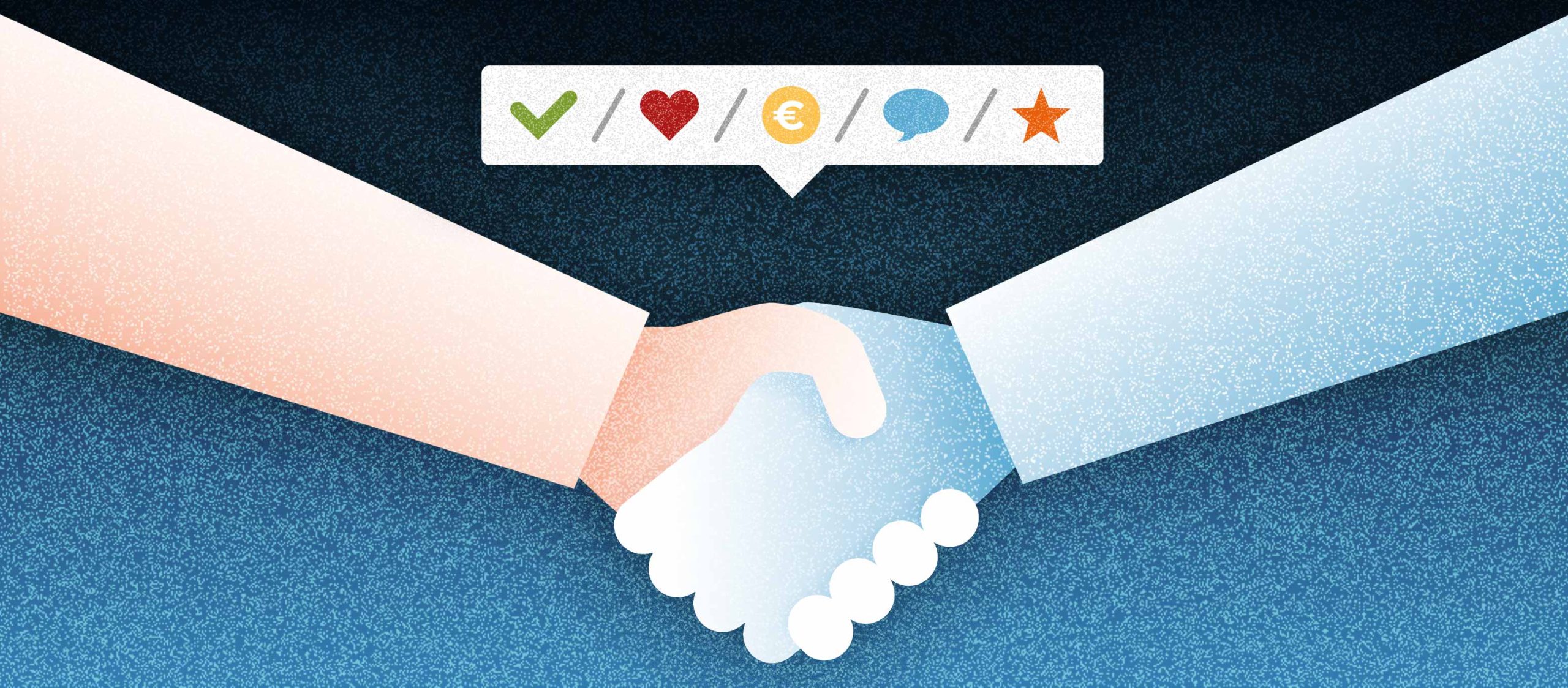 Based on the best-selling book, Platform Strategy, this is part four of our series on the rocket model for platform businesses, following our pieces on the Attract, Match and Connect rocket model functions. 
The drivers of platform ecosystems
Platforms enable a wide range of interactions among their ecosystem participants. In many cases, it is information, rather than money, that is exchanged with the platform and its participants. Think, for example, of a like on Facebook, a vote on Reddit, a rating on eBay or a comment on TripAdvisor.
The fact that no money changes hands during these interactions doesn't mean that they are not valuable for the platform. But out of all the interactions participants have with the platform, some really crystallise the raison d'être of the platform. We call these core transactions. Examples include a sale on eBay, a successful hire with LinkedIn, a date with Match.com or a click on a Google-sponsored ad. These core transactions are supported by other interactions that enable the overall value proposition.
Value for participants, value for the platform
The platform should be optimised to maximise the number of core transactions and supporting interactions. It is important to note that both interactions and core transactions need to be considered from the point of view of each platform participant since they may be different for Users, Producers, the platform owner, the advertisers, etc. Ultimately, the value of a platform business will be driven by its ability to both maximise the total number of value-adding interactions and core transactions on the platform in order to capture a share of this value through direct or indirect monetisation. The pre-launch platform design phase should be approached with this objective in mind (even if monetisation is only introduced at a later stage).
Whether value capture at the platform level occurs when a core transaction is consumed depends on the alignment of the platform.  For example there is direct alignment for Depop, a platform for secondhand fashion, which takes a commission on the value of each successful sale (a core transaction). However, Bumble doesn't charge you when you go on a date, as the core transaction for participants is difficult for the platform to monitor. So dating platforms like Bumble find ways to charge for other interactions that lead to dates (including membership fees, a fee per message for communicating with your matches or a fee to appear on top of searches).
Once the platform is fully operational, it is often useful to use transaction metrics in marketing and communication briefs as social proof to further increase trust. In some cases, the platform enables 'ultimate' transactions, such as weddings for dating sites. eHarmony reports being responsible for more than 2 million marriages.
'Leakage': transactions off-platform
As discussed in the Connect article, Platform leakage is said to happen when, after being matched and connected, a user and a producer mutually agree to complete a transaction off-platform –often to avoid the platform's monetisation principles. Each platform business model is thought to have a 'natural' level of leakage.
The level of leakage is often expressed as the ratio of the number of transactions occurring off-platform (after having been initiated on it) over the total number of transactions on platform.  The measure is therefore dependent upon the definition of the platform's core transaction and its monetisation principles. For example, in eBay's wood flooring category, leakage used to be greater than 80%. The reason? Many sellers in this category listed one square metre in order to establish a direct relationship with buyers, and would then move off-platform to sell more.
Core transactions that enable exchange
Platforms are not only faced with the same monetisation and pricing questions as traditional businesses, but they also have the added complexity of defining the core transactions that will take place between platform participants.
The ultimate goal of platforms is to maximise the number of value-adding core transactions. Clarity on the following questions will be useful:
What is the nature/type of core transactions? What is the raison d'être of the platform?

Will core transactions be on or off the platform?

How will supporting interactions (covered in the Connect section) enable core transactions? Which elements will be needed to complete core transactions (payment, delivery aspects, other)? If the platform involves the physical delivery of goods, should the delivery be outsourced to producers or should it be intermediated by the platform? 
The nature and type of transactions can vary greatly among marketplaces, social and messaging platforms, fintech platforms and app stores. 
Marketplaces–payment in exchange for goods (such as secondhand clothing on Vestiaire Collective); payment in exchange for services (like a company contracting a freelancer on Malt or Upwork for a work project)

Social and messaging platforms–content contribution (such as a user posting a photo on a social platform, like Instagram)

Fintech platforms–enablement of other transactions (for example, a buyer paying for a product or service with their credit card at a point of sale from a seller, as is the case with credit card companies like Visa)

App stores–app downloads (such as from the Apple App store)
While the main purpose of platforms is to enable value exchange between participants, value capture should also be discussed early on. It is critical to minimise friction in the earlier days of the platform, but it is equally important to understand monetisation options:
Which side adds the most value? How is it enabled?

How to monetise? Which side(s) to charge? 
Some platforms end up monetising late in their development, to avoid friction in the early days. However, even these platforms often experiment with revenue models very early in order to understand the implications of the various growth models available to them.
Summary
Platforms enable their participants to transact and exchange

, whether it be information, goods, services or money.

Core transactions are interactions between participants that capture the raison d'être of the platform.
The core transaction may or may not be an exchange of money

, and it might not be the primary method of value capture for the platform owner.

Participants sometimes go off-platform to complete a core transaction

, which is referred to as platform 'leakage'.

All platforms have a natural level of 'leakage'

but should aim to reduce it so as to maintain the platform's value proposition and avoid negative network effects.

The main purpose of platforms is to enable value exchange between participants

, but they should also consider if/how they will monetise.
Our series on the rocket model concludes with the final stage: Optimise. We'll cover how continual optimisation feeds back into functional activities in all other stages and at all phases of the platform life cycle.
For more, order your copy of Platform Strategy: How to unlock the power of communities and networks to grow your business.